This page is under construction
Passenger's Frontal Airbags
This page includes:
Single stage passenger's frontal airbags

Dual stage passenger's frontal airbags

Smart airbags (Passenger's Frontal)

Occupant position sensors.

Weight sensors

Seat belt tension sensors
For more advanced information see the power point presentation:
Since the beginning of their development, the passenger's frontal airbag has probably been the biggest controversy in the automotive industry. The debate over the safety of passenger air bags has been an ongoing thing since the mid '60s. As a result, the problems with this system have generated most all of the new technology we see today.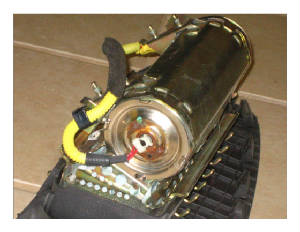 This is the single stage pyrotechnic inflated passenger's frontal airbag.
Though they look a lot different than the driver's airbag they work basically the same. The biggest difference is; to fill the larger space between the dash and the seat, the bag must be much larger. To fill this larger bag, at the same speed as the driver's, a much larger volume of gas is required and it must be distributed over a wider area. Because of this, most passengers' pyrotechnic type inflators are long rather than round like the driver's.
The single stage pyrotechnic inflator (Fig 2-5-2) shows one of the exceptions but, notice the larger chamber containing the propellant. Both the long and the round inflators work on the same bases as the driver's airbag, the igniter receives an impulse from the control module; it then heats the Sodium Azide, starting the chemical reaction that produces large amounts of Nitrogen Gas to feel the bag.
In later years many manufacturers turned to a compressed gas inflator (Fig 2-5-3). These inflators no longer use Sodium Azide or any type of chemical reaction. They are simply a storage canister that is felled with compressed Nitrogen or Argon Gas. The pressure stored in most of these canisters is rated at 3000 psi. Some of the later ones from about 2004-up are rated at 4000 psi. This compressed gas is held by a disc shaped bladder, (much like a coke bottle cap), when the igniter is energized, it melts the bladder and the gas is allowed to escape into the bag.